With more than 40 android phones there is lot of buzz in android applications development and last year Google Reveal Android developer challenge winners. If you are interested in development then you can also watch Android developers talk about their applications.
Introduction to Android (Video)
How to Download Android applications
To download android applications into your mobile phone you just need to launch the
android market
in the application menu, search for
"desired application"
, and easily install them.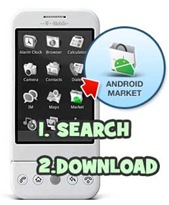 Here is the list of 30 Best free Google Android Applications available in
Android Market
.
Update in Applications list
Shazam - To tag and discover music from mobile phone
There is an excellent application for mobiles named "Shazam" which can easily search and tag the surrounding music. You can easily get this from android market.
(Note: All the below described applications are sorted from
Android Market
, all the image and descriptions curtsey belongs to
Android Market
and respective developers sites.)